Breaking News
A case study of the emergency and post-operative care that saved one patient's life.
June 2013
Exceptional Critical Care Treatment and Dedicated Teamwork on Display at LVH.
Jo Jo is a sweet and energetic 13 year old terrier that has been a patient at Leesburg Veterinary Hospital since he was a puppy. Jo Jo was out at the barn with his owner on August 15th. He was out of her sight while he explored the farm for a short period of time. He came back with severe wounds to his neck that were likely caused by a much larger dog attacking him.
Jo Jo's owner rushed him to Leesburg Veterinary Hospital. Jo Jo was in mild shock and painful when he arrived. He was stabilized with intravenous fluids and given pain medications and sedation. Jo Jo had severe lacerations through the skin and muscles of most of the right side of his neck with severe puncture wounds and smaller gashes on the left side of his neck.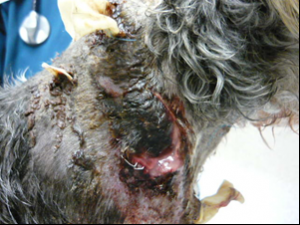 Jo Jo's owners wanted us to try to save him, so Jo Jo was taken to surgery for Dr. Boyle to clean his wounds and close the damaged layers of muscle and skin. Jo Jo's injuries were very deep and required many layers of suturing and two drains to be placed under his skin to prevent fluid build-up and allow healing. Jo Jo did well under anesthesia and recovered well from the initial surgery, but he was not healed yet.
Jo Jo had swelling of his airway/larynx from the dog attacking his neck. He required heavy sedation for the next 24 hours to keep him calm so that his breathing was not labored. We were able to slowly wean Jo Jo off of his sedation the next day while his Mom was with him to keep him calm. Jo Jo went home with antibiotics, pain medications and a mild sedative.
Unfortunately Jo Jo had a complication with his healing 11 days after the initial injury. A large piece of skin on the right side of his neck had been too damaged to survive so it became necrotic and caused a deep infection of Jo Jo's wound.
Jo Jo required another brief surgery to debride the necrotic skin and flush pus out of the wounds. A bacterial culture and sensitivity was performed to pinpoint the exact antibiotic we should use. We were not able to re-close the wounds (it would have trapped bacteria in his muscles and under his skin). Jo Jo's owner did a fantastic job of changing his bandage daily to promote the formation of healthy granulation tissue (a key component to healing wounds).
On September 6th Jo Jo returned for his final recheck examination; he was feeling great and his wounds were 99% healed. His owner was given the okay to discontinue bandage changes and all medications.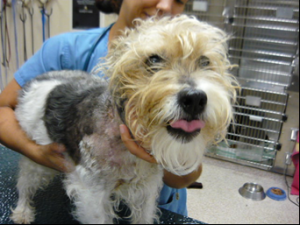 Jo Jo is now a happy and healed (with some impressive battle wound scars) dog thanks to the hard work by everyone at Leesburg Veterinary Hospital and his very dedicated owners!