Breaking News
Local cub scouts earn "Scientist" badge at LVH!
May 6, 2013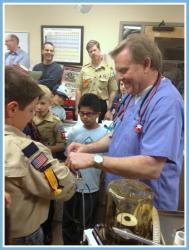 This week, LVH was proud to host Grant Strickland and his local Cub Scout den as they worked towards fulfilling their Webelos requirements. Webelos-
We'll Be Loyal Scouts
- is a special program that prepares Cub Scouts to become Boy Scouts. Throughout this program, the Cub Scouts participate in a variety of activities and earn badges, in an effort to promote maturity and strong moral character.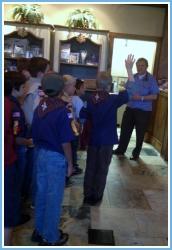 On this particular field trip, the scouts were working towards their "Scientist" activity badge. Grant's Dad, Dr. Mike Strickland, directed the den in medical and veterinary related exercises. The Scouts were able to experiment with a heart rate monitor and ultrasound machine - two tools that are used in both human and animal medicine. They also examined an animal brain, heart, and eyeball, and looked at worms under a microscope. Elphie, an English springer spaniel belonging to one of our employees, also volunteered her time, letting the scouts look at her teeth and listen to her heartbeat with a stethoscope.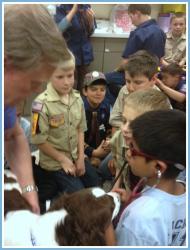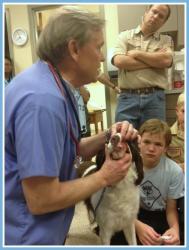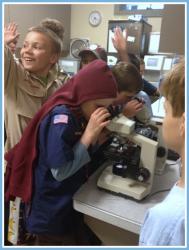 We wish Grant and his entire Cub Scout den all the best as they continue earning Webelos activity badges and work toward becoming Boy Scouts!