Breaking News
Interested in charitable giving? Consider LVH's "Pumpkin" Benevolent Fund.
February 8, 2013
Our pets hold a special place in all of our hearts. Their companionship is a source of comfort and joy. Our benevolent fund was established in memory of a dog named Pumpkin, who fulfilled these roles and more for her owner. Pumpkin lived each day with such exuberance and joy, she showed unwavering loyalty, and brought a smile to her owner's face each day. Unfortunately, Pumpkin was unexpectedly taken from her people.
The doctors and staff at Leesburg Veterinary Hospital were touched by the love Pumpkin's owners had for her and how it exemplified the role our pets play in the human-animal bond. To celebrate and honor these values, we established the benevolent fund in Pumpkin's honor.
We all know how difficult it can be to make decisions regarding veterinary care when finances are limited. The Pumpkin Benevolent Fund is a non-profit, tax-exempt 501(c)(3) fund to provide support to those clients who cannot afford veterinary care. This fund has been a source of hope for families in times of critical and end-of-life care.
Our benevolent fund is completely supported through donations from our clients and friends. We are so grateful for your charitable giving. Your generosity may help to save a special friend for someone in need. Thank you for keeping the spirit of Pumpkin's love and spunk alive and truly embracing our motto of "Caring is what we do best!"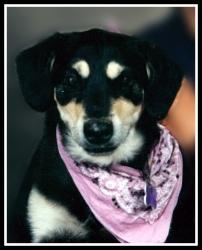 If you are interested in donating to the Benevolent Fund, please pick up an informational brochure and donation form at the front desk or speak with one of our Client Care Specialists.